Desperate to Lose Weight Quickly – How to Lose 20 Pounds Fast (Part 1)
How to Lose Body Fat And Build Muscle Page 1/3
You want to lose 20 pounds fast, and want it gone now!
And why not? Here's how –
Just come over to my house. I have the sharpest hacksaw in my garage, and we'll just slice off one of your legs.
After all it's just extra "dead weight" right?
Everywhere you look, you read and hear promises of quick weight loss and you even see people losing weight quickly.
Forget it!
Don't be a 'big loser' – and say 'No' to quick weight loss.
Let's face it. Everyone wants to get the fat off fast – and having that desire is not wrong – but it's the wrong approach.
The most probable reasons you are desperate to lose weight quickly is because:
Is it because an event is coming up and you want to look great?

If you're you're aiming to fit into a wedding dress or look great at a dinner function — but, what happens when the event is over?If you have a short term goal, most likely your results will be short sighted.

You want to be more attractive to your partner?

Forget it! You'll wind up resenting your partner for it — Never lose weight for anyone but for yourself. You have to want to lose the weight for yourself, and it has to be about more than just changing your appearance. But if changing your appearance is your only focus, you will lose motivation quickly.

You want to feel better about yourself – physically and health-wise – and have more energy for life.

Why not? This is a far better goal for long term healthy lifestyle!
Finding the right motivation is the key to achieving your fat loss goals.
And for most people, that goal is realized slowly with a healthy eating and exercise plan.
And if your last attempt to lose weight was a failure or partly successful – then learn from past attempts to avoid the same mistakes again. Think about certain things that may or may not have worked for you – and improve it for success.
However, trying to lose weight quickly will have some serious consequences.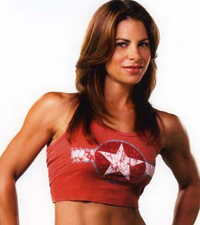 Click Now to hear what Jillian Michaels of Biggest Loser has to say about Turbulence Training – The Best Way to Lose Body Fat
Page 2
================================
For The Best Ways to Lose Body and Build Muscle, we recommend